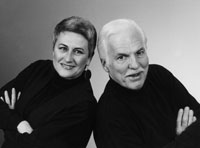 Graham Thatcher
Graham Thatcher is the Artistic Director and primary performer for Periaktos Productions. Since appearing in his first acting role at five years of age, Graham has performed in or directed over 150 community, university and professional theatre productions. He is the co-author and solo performer in
Clarence Darrow: Crimes, Causes and the Courtroom, Maxims, Monarchy
and
Sir Thomas More
and
Impeach Justice Douglas!
toured by Periaktos Productions. He is the co-author and director of
Thurgood Marshall's Coming!
, and
The Women Lawyers Club
. Graham has authored several other theatrical plays, including commissioned works and The Mask of the Jaguar, about the cultural clash between the Maya and Europeans during the Spanish Conquest.
Over the past thirty-five years Graham has engaged students of all ages in university classrooms, business board rooms and convention meeting spaces. He serves as a communications consultant to businesses and individuals and is the co-creator and presenter of Periaktos Productions' CLE programs, "Word of Mouth: A Workshop in the Art and Ethics of Oral Communication for Lawyers." He holds a B.A. from San Francisco State University, an M.A. in Theatre from the University of South Dakota and a Ph.D. in Philosophy from the University of Minnesota. He has been listed in Who's Who in American Education and Outstanding American Educators, and is a recipient of the Governor's Award from the Minnesota Council on Quality.
Anna Marie Thatcher
Anna Marie Thatcher is the Managing Producer for Periaktos Productions and occasionally appears on stage. She is an attorney and has worked for thirty-five years with artists and visual and performing arts organizations as an arts consultant, producer and director. She is the co-author and producer for all Periaktos programs and is also the director of
Clarence Darrow: Crimes, Causes and the Courtroom
,
Maxims, Monarchy and Sir Thomas More
and
Impeach Justice Douglas!
Anna Marie is a licensed member of the Minnesota Bar, and continues to work with artists and nonprofit arts organizations. She holds a B.A. from Dakota Wesleyan University (Mitchell, SD), an MA in Theatre from the University of South Dakota, and a J.D. from Hamline University School of Law (St. Paul, Minnesota). She is a member of the American Bar Association, the Minnesota Bar Association and ACLEA (Association of Continuing Legal Education) and is listed in Who's Who in American Law. Anna Marie also serves as volunteer for the First People's Fund, which provides support for Native American artists and as President of the Black Hills Playhouse Alumni Association.
Graham and Anna Marie make their home in the Black Hills of South Dakota.